NIZUC Spa by ESPA Mayan Mindfulness Therapies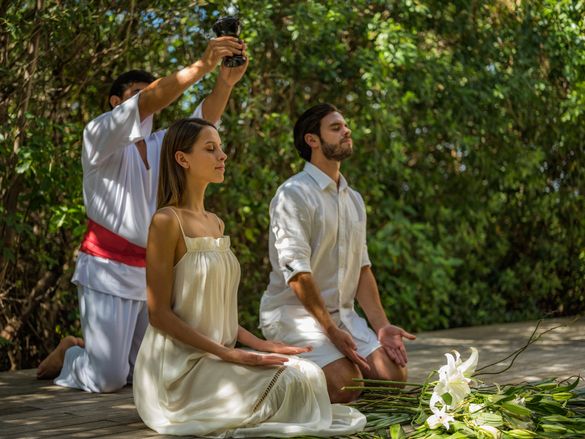 ---
Mexico's Mayan civilisation were masters at mindfulness, constantly observing their surroundings and the stars, studying rhythm and flow of the Universe to understand the meaning of life.   NIZUC Spa by ESPA has launched a holistic treatment menu based around Mayan mindfulness.  Therapies include a Mindful Massage, a Mindful Facial, a Couple's Mindful Journey and a three-day Be Mindful programme that includes a signature NIZUC Thermal Experience, mindful treatments, yoga or meditation, and juicing.
Mindfulness is a mental state achieved by focusing ones awareness on the present moment. NIZUC's Mayan Mindfulness treatments begin with a guided breathing and visualisation session to revitalise and promote wellbeing, connecting the mind and spirit with the body for true holistic wellbeing.  Treatments include:
Mindful Massage – 80 minutes
Designed to unwind the mind and instil a sense of positivity, this deeply relaxing and enlightening experience begins with mindfulness.  A therapist guides guests through a deep breathing and calming visualisation session, before moving onto a full body massage giving special attention to the metamorphic zones on the feet to rebalance.  The treatment finished with a re-energising scalp massage using warm Rose Quartz crystals.
Mindful Facial – 80 minutes
This holistic personalized facial aims to soothe, nurture and revitalise skin and spirit.  The therapist renews energy by guiding guests through a breathing and visualisation technique, before giving a facial massage using warmed poultices to sculpt and tone the facial contours while nourishing and replenishing the skin. The treatment finishes with a choice of a soothing scalp massage or hand and arm massage.
Couple's Mindful Journey – 160 minutes
A truly bonding experience for couples looking to extend their spiritual connection and have a meaningful moment together. The therapy includes a couples guided breathing and visualisation, a deeply relaxing Mindful Massage followed by the nourishing Mindful Facial and concluding with a Healthy Spa Lunch.
The Be Mindful Programme – three days
NIZUC's Be Mindful programme promotes a healthy lifestyle through the balance of exercise, relaxation and healthy eating.
Day One
NIZUC Thermal Experience
Mindful Massage 80 minutes
Freshly pressed juice
Day Two
NIZUC Thermal Experience
Mindful Facial 80 minutes
Freshly pressed juice
Day Three
NIZUC Thermal Experience
Yoga Class or Meditation 60 minutes
Located within the luxurious NIZUC Resort and Spa and built on an area once sacred to the ancient Mayans, NIZUC Spa by ESPA is the perfect place to reconnect with nature. The first ESPA branded spa in the Mexican Caribbean, NIZUC Spa by ESPA offers the excellence of the UK's internationally renowned brand combined with the ancient healing rituals of the Mayans for a one-of-a-kind spa experience.
The impressive facility offers over 30,000 square feet of spa space including 18 treatment rooms, an Asian therapy room and private spa villas for couples with pool and outdoor decks.  Every spa treatment at NIZUC begins with the NIZUC Thermal Experience, a guided hydrotherapy circuit which includes aromatic steam room, invigorating showers, sauna, ice fountain with cool mist shower, vitality pool with hydro-massage, cold plunge pool, solarium, thermic loungers where guests can relax and enjoy a scalp massage with a nourishing ESPA hair mask.
Follow and Share with Jetsettersblog.