Pullman Living and Novotel Living in the Philippines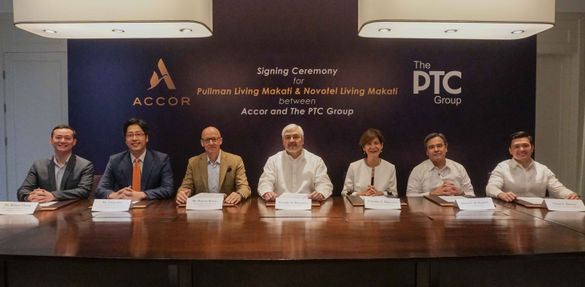 ---
Accor has partnered with PTC Holdings (The PTC Group) to develop the first Pullman Living Manila and Novotel Living Manila standalone apartments in the world. Located within the central business district of Makati in the Philippines, the two apartment complexes are a short walk to the high end district of Ayala Avenue and Greenbelt shopping mall.
Suitable for long-term and short-term stays, the 200-room Pullman Living Manila and 300-room Novotel Living Manila offer couples and families the perfect 'home away from home' with convenient access to world-class shopping and dining throughout the Makati district. They are designed to provide residents with a taste of local culture, while supporting lifestyle needs and daily routines in comfort and style.
"Pullman Living provides a stylish and intelligent private sanctuary with re-imagined hospitality experiences including unique dining concepts, the Pullman Porter, seamless and intuitive technology and a bold, vibrant art-led design. Novotel Living brings a co-living experience to the serviced apartment category. Novotel Living is all about making everyday moments matter in a warm, relaxed and friendly environment," said Patrick Basset, Chief Operating Officer of Accor for Upper Southeast & Northeast Asia and the Maldives.
Residents staying at Novotel Living will enjoy exclusive access to a Clubhouse that features a shared kitchen, a library enabling residents to work in a more intimate setting and a play area to kick-back and relax. The development will include retail outlets, an all-day dining restaurant and bar, a spa, fitness centre, meeting rooms, business centres and a ballroom. Guests will be able to make sure of services including kitchen stocking and re-stocking, personal trainers, pre-prepared meals and a range of events to excite both locals and residents.
"Novotel Living Manila and Pullman Living Manila will offer distinct character, incorporating the local culture, heritage and architecture, while staying true to each brand's personality. We are delighted to partner with Accor for this exciting new development," said Gerardo A. Borromeo, Chief Executive Officer of PTC.
Accor is the largest operator of extended stay and serviced apartment properties outside of the United States of America. The group offers a leading portfolio of nearly 300 extended stay properties, comprising of serviced apartments and apart-hotels under brands including Mondrian Living, Swissôtel Living, Mövenpick Living, Mercure Living, Hyde Living and more.
The Pullman Living and Novotel Living brands were unveiled earlier this year, offering an innovative expansion in extended stays. They were born from two of the group's most popular hotel brands and will feature many of the services and design elements that have seen the Novotel and Pullman brands become so successful. They will be professionally managed by Accor, offering owners access to Accor's global distribution capabilities, platforms and marketing assets, while providing the warmest welcome for guests.
"We are very excited to introduce Pullman Living and Novotel Living to Asia," said Jeff Tisdall, Senior Vice President of Development, Residential and Extended Stays at Accor.  "A highly innovative dining experience sets the Pullman Living brand apart, including pop-up restaurants and food trucks, while Novotel Living focuses on welcoming and relaxing social spaces where residents can meet, work, play and dine."
Accor currently operates eight hotels in the Philippines under the Raffles, Fairmont, Sofitel, Movenpick, Novotel and Mercure brands and has a pipeline of 12 hotels and serviced apartments scheduled to open over the next five years. Currently, Accor has over 154 Novotel hotels & serviced apartments and 77 Pullman hotels & serviced apartments across Asia Pacific.
Pullman Living Manila and Novotel Living Manila are slated to open in the last quarter of 2022.
ABOUT ACCOR
Accor is a world-leading augmented hospitality group offering unique experiences in 4,900 hotels and residences across 110 countries. The Group has been acquiring hospitality expertise for more than 50 years, resulting in an unrivaled portfolio of brands, from luxury to economy, supported by one of the most attractive loyalty programs in the world.
Beyond accommodation, Accor enables new ways to live, work, and play, by blending food and beverage with nightlife, wellbeing, and co-working. It also offers digital solutions that maximize distribution, optimize hotel operations and enhance the customer experience.
Accor is deeply committed to sustainable value creation and plays an active role in giving back to planet and community via its Planet 21 – Acting Here program and the Accor Solidarity endowment fund, which gives disadvantaged groups access to employment through professional training.
Accor SA is publicly listed on the Euronext Paris Stock Exchange (ISIN code: FR0000120404) and on the OTC Market (Ticker: ACRFY) in the United States. For more information visit accor.com. Or become a fan and follow us on Twitter and Facebook.
ABOUT PTC
PTC Holdings is a privately-held investment company with roots in the maritime industry.  Founded in 1979, The PTC Group has evolved a diversified portfolio of businesses spread across six different industries which include – Shipping, Real Estate Development, Energy and Infrastructure, Aviation and Health and International Professional Placement. For more information, visit https://www.ptc.com.ph
Follow and Share with Jetsettersblog.