Raffles and Rizzoli Partner with Romance packages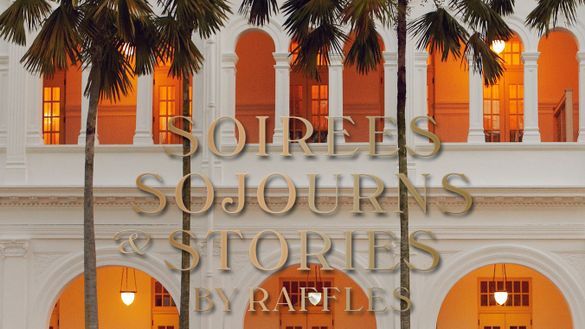 ---
Raffles Hotels & Resorts, one of the most revered names in luxury hospitality, is pleased to announce a new collaboration with Rizzoli New York. Soirees, Sojourns & Stories is a 200-page slipcased volume that will take readers on an enthralling journey throughout the Raffles world of timeless beauty.  From the opening of its Singapore flagship in 1887 to the latest chapter being the recent unveiling of Raffles Europejski Warsaw, the story weaves through history to reveal how Raffles created its extraordinary legacy of bygone elegance and exceptional hospitality across the globe.
Penned by Natasha Fraser-Cavassoni, each chapter is a voyage into Raffles' fascinating world, with readers travelling from Singapore to Cambodia, Dubai, Istanbul, Paris, Warsaw, the Seychelles, and more.
Archival materials complement sumptuous contemporary photography depicting special events, remarkable stories, and celebrity guests. With original illustrations by Luke Edward Hall, and filled with literary excerpts and recipes, this sophisticated tome will fascinate hotel buffs and wanderlust-filled luxury aficionados everywhere.
"Raffles has entered an exciting new era of expansion," said Jeannette Ho, Vice President, Raffles Brand Strategy & Strategic Partnerships. "Yet the brand remains true to its origins, delivering the timeless elegance, first-class travel experiences and the authentic personal charm that our loyal guests have loved for well over a century."
The collaboration with the US-based publisher comes as Raffles prepares its first foray into North America. Scheduled to open in 2021, Raffles Boston Back Bay Hotel & Residences will be a welcoming oasis of refined elegance comprised of a distinctive hotel and exquisitely appointed residences, located in the heart of Boston, Massachusetts. The hotel will be the first Raffles property in North America, bringing one of AccorHotels' most iconic and beloved luxury brands to a city with a powerful history of American cultural significance and landmark events. The property will include 147 guestrooms and 146 branded residences in a striking new 33-story building. Catering to the most discerning travellers and residents, Raffles Boston Back Bay will offer the impeccable and graciously intuitive service, distinguished charm and whimsical adventures that are synonymous with the Raffles name.
In addition to Raffles Singapore, which is currently undergoing a careful and sensitive restoration and scheduled for a highly anticipated reopening in the first quarter of 2019, some of the most admired flagship properties of the luxury hotel brand include Le Royal Monceau, Raffles Paris; Raffles Seychelles; and Raffles Istanbul. At every location, Raffles Butlers deliver the ultimate in discreet, bespoke service, while Raffles Spas are noted for their aesthetic beauty and powers of rejuvenation. A culture of craftsmanship and bespoke cocktails led to the brand's signature Raffles 1915 Gin, a collaboration with Sipsmith London Dry Gin, created to celebrate 100 years of the Singapore Sling at Raffles and the brand's namesake Sir Stamford Raffles, the intrepid founder of Singapore.
Soirees, Sojourns & Stories reveals these tales, along with many other elements of the Raffles experience that have become time-honoured in the minds of returning guests. From the story of the Traveller's Palm to 'service like a gentle breeze'; from Raffles Afternoon Tea and impressive Mooncakes to the collection's architectural achievements and the artists who have graced its halls, readers will find a delightful and riveting history of famous luxury hotel stories amassed over more than 130 years.
"We are delighted to partner with Rizzoli to create this captivating volume; it allows us to showcase our time-honoured traditions, remarkable stories and extraordinary portfolio of hotels in a meaningful way, even as we continue to expand and open new addresses in exciting international locales." said Xavier Louyot, Senior Vice President, Brand Content, Raffles and AccorHotels Luxury Brands.
Available as of December 2018 at Raffles Hotels & Resorts worldwide, and wherever fine books are sold, Soirees, Sojourns & Stories is a beautiful gift for those who appreciate the glamourous world of luxury travel and the wonderful stories of the well-travelled.
About Natasha Fraser-Cavassoni
Natasha Fraser-Cavassoni is the author of Sam Spiegel – A Hollywood Producer, Chanel fashion, Tino Zervudachi, Dior Glamour, Monsieur Dior, Loulou de la Falaise, BiYan, Vogue on Yves Saint Laurent, Vogue on Calvin Klein and her memoir After Andy – Adventures in Warhol Land – that covers her years working at the Warhol Studio and Interview Magazine. The British-born Fraser-Cavassoni has also taught at the American University in Paris and is the co-producer of Inside Dior, the two-part television series. From 1999 to 2004, she was the European editor for Harper's Bazaar, after serving as a staff member and journalist at Women's Wear Daily and W magazine, and assisting Karl Lagerfeld at the Chanel studio from 1989 to 1991. She lives in Paris with her two daughters.
About Luke Edward Hall
Luke Edward Hall is a London-based artist and designer of interiors, fabrics and ceramics. He established his studio in the autumn of 2015 and since then has worked across a broad range of design commissions and projects and has collaborated with a variety of companies including Burberry, Christie's and the Parker Palm Springs hotel in California. His colourful aesthetic is informed by a love of history, an appreciation of beauty and a sense of playfulness.
About Raffles
Raffles Hotels & Resorts boasts an illustrious history and some of the most prestigious hotel addresses worldwide.  In 1887, Raffles Singapore set the standard for luxury hospitality, introducing the world to private butlers, the Singapore Sling and its enduring, legendary service.  Today, Raffles continues this tradition in leading cities and lavish resort locales, enchanting travellers with meaningful experiences and service that is both gracious and intuitive. Connoisseurs of life choose Raffles, not merely for its aura of culture, beauty and gentility, but for the extraordinary way they feel when in residence with Raffles. Each Raffles, be it Paris, Istanbul, Warsaw, Jakarta or the Seychelles, serves as a venerated oasis where travellers arrive as guests, leave as friends and return as family. Raffles is part of AccorHotels, a world-leading travel and lifestyle group which invites travellers to feel welcome at more than 4,500 hotels, resorts and residences, along with some 10,000 of the finest private homes around the globe.