Responsible Travel with CGH Earth Wellness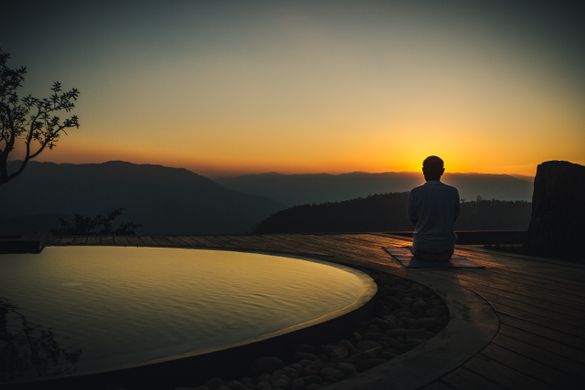 ---
People want, and deserve, to travel but what footprint does voyaging leave on the Earth and what impact does this have on the local economy? With climate changing and global warming, how can one practise responsible travelling to reduce environmental impact? According to the World Tourism Organization, sustainable tourism can be defined as "Tourism that takes full account of its current and future economic, social and environmental impacts, addressing the needs of visitors, the industry, the environment and host communities."
Enter CGH Earth, an ecologically conscious luxurious hospitality group, behind the four wellness retreats – SwaSwara, Prakriti Shakti, Kalari Kovilakom and Kalari Rasayana located across Kerala, that has a conscious commitment to the environment and the local communities where they are situated. The experiential character of the retreats pays homage to nature and initiatives are taken throughout to harvest and process rainwater, grow vegetables onsite or purchase locally and hire staff from the locality. This identity has been termed 'the Indian consciousness', characterised by those aspects that distinctly make up the Indian soul – variety, beauty, simplicity and caring. CGH Earth Wellness endorses that less can be more and that true luxury is an experience rooted in simplicity and soul, without ruining the planet.
History and Heritage Preservation
A prime example is Kalari Kovilakom, a 200-year-old palace set within the grounds of the old Vengunad kingdom located near Kollangode in the Palghat District of North Kerala, India. In 2005, CGH Earth restored the palace's legacy and historical value and converted it into a place for traditional Ayurvedic healing. SwaSwara sustains traditions and the local economy by annually rethatching the palm leaf rooves. By doing this, the wellness retreat provides employment in the locality and keeps the integrity of the buildings' design intact.
Conservation and the Environment are Key
CGH Earth Wellness recognises that working with the earth is a two-way project – one needs to give back as much, perhaps more, as one takes. This awareness led to various initiatives to preserve and nurture biodiversity. All four of CGH Earth's wellness retreats are conscious of water usage and recycling.  Rainwater is collected and processed for consumption and wastewater from the bathrooms, kitchens and treatment rooms is harvested, processed and used to water the grounds of the properties. All four properties also compost kitchen waste as plant fertiliser.
To further commit to the ecological system, all four of CGH Earth Wellness properties are plastic-free and purified rainwater is served in recyclable glass bottles. Shampoo and shower gel are provided in little ceramic jars that are refillable, obviating the use of single-use plastic.
Highlighting Everything Local
In their dedication to supporting everything local, CGH Earth Wellness goes the extra mile to ensure guests experience the best of the region where they are staying. Every region has its own unique character and is expressed through culinary creations by integrating ethnic food preparations into the menus. CGH Earth Wellness is fast moving to make organic produce available in all of its properties. Fruits, vegetables, and herbs are grown on the property of SwaSwara; Prakriti Shakti, Kalari Rasayana and Kalari Kavilakom source fresh produce from local farmers who follow traditional farming methods to achieve a good standard of being non-GMO and pesticide-free.  Sourcing from local farmers also helps to support the local economy and reduce food miles and carbon footprint.
CGH Earth Wellness' love for all things local also extends to people. SwaSwara, Kalari Rasayana and Kalari Kovilakom are staffed with members of the local community who carry with them a unique 'local touch' where they bring local knowledge and customs to the centres. Additionally, CGH Earth Wellness believes in giving back by supporting local schools and promoting community welfare programmes, such as rainwater harvesting techniques, tree planting initiatives, and wildlife conservation and education.
About CGH Earth Wellness Destinations
God lies in the details, waiting to be discovered", is the thought that has inspired CGH Earth from the very beginning, and the non-negotiable core values of Environmental Sensitivity, benefiting community and being local have always been our constant guide. These values provide, not just the invisible pillars on which their efforts stand, but also serve as daily inspirations, made visible in a hundred little details.  Over the years, with 16 unique holiday experiences and 4 well-being and curative retreats created across Southern India, this boutique chain discovered themselves through nature and community. Learnt that less is more. That luxury lies in simplicity. And that reality is more enchanting than fantasy. CGH Earth offers guests a string of experiences that are pure, unexpected and inspiring. It is true when they say that it is these details that collectively create the singular mosaic that is a CGH Earth Experience.
Follow and Share with Jetsettersblog.