Six Senses Caribbean Debut in St. Kitts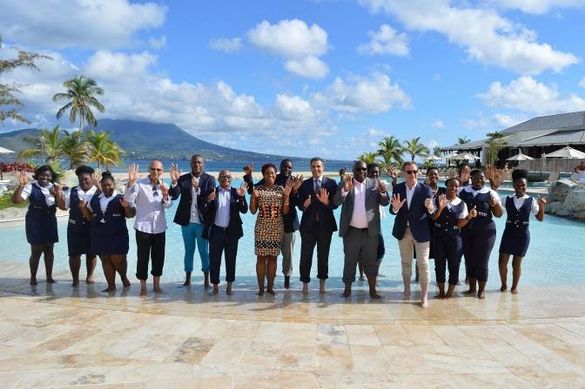 Tags: City, walking, ramblers, City Breaks, new york, Hong Kong, Barcelona, Rome, USA, China, italy, Spain
---
Spanning the globe with their worldwide walking programme, the original small group walking holiday experts, Ramblers Walking Holidays, have been blazing a trail for over 70 years and know a thing or two when it comes to discovering a destination on foot.
Well-known for their itineraries that offer close and far-flung adventures into the great outdoors, they also appreciate that cities offer a wealth of exciting encounters for the walker and are the way to truly get to the heart of a destination. Whether excitingly immersed in its bright lights or wandering through a city's hidden alleys, the best times to go are in the cooler spring and autumn temperatures for a leisurely and moderately graded holiday, option include:
Five Faces of New York (Leisurely, Grade 2)
Arguably the most energy charged city in the world, New York is ideal for exploring on foot in the autumn with many must see attractions, such as Times Square, the Rockefeller Centre, Fifth Avenue, Central Park and Downtown Manhattan, all within walking distance of each other. The Five Faces of New York offers a fascinating trail through the city's five Boroughs, dropping into an array of museums, galleries and colourful neighbourhoods along the way. Highlights include walking across iconic Brooklyn Bridge, the view from the top of the Empire Building and joining the locals to catch the Staten Island Ferry. The itinerary also includes a train ride up the Hudson Valley to some typical colonial villages and the opportunity to see a Broadway show.
Ramblers Walking Holidays (01707 331 133; www.ramblersholidays.co.uk) 8 night Five Faces of New York starts from £2185/person including flights, transfers, en suite accommodation, breakfasts, dinners on five evenings, rail trip up the Hudson, guided tour of Harlem and local transport costs.Departs 20 September, 4 October and 17 November 2018.
Discover Hong Kong (Moderate, Grade 4)
Immersed in the vibrancy of everyday life, get a taste forlocal Hong Kong culture discovering one of China's most colourful cities on foot. Go in November and December for cooler temperatures to explore its skyscraper rimmed harbour and glamorous shopping streets, bustling alleys and traditional markets. Venture intothe green city outskirts for unspoiled hill country with panoramic views and encounter life little changed for centuries on the harbour's small islands.  Staying in a four-star hotel in Kowloon, there's time to explore the New Territories with a hike along the Maclehose Trail; a ride on the Kowloon-Canton railway to mainland China and ample free time to wander and discover for yourself.
Ramblers Walking Holidays (01707 331 133; www.ramblersholidays.co.uk) 14 nightDiscover Hong Kong from £2,399 including flights, 4 star, B&B accommodation, most dinners, airport transfers and local transport. Departs 6 & 21 November, 20 December 2018. 
Barcelona on Foot (Leisurely, Grade 2)
The wonder-filled creations by Antoni Gaudí, including his ever evolving Sagrada Familia, offer an inspirational insight into the vibrant art and culture of Catalunya.  Autumn in Barcelona is the best time for strolling the narrow, twisting streets of the Barri Gòtic, gazing on the quirky gothic and art nouveau architecture that adorns the city and uncovering medieval streets and more modern areas such as the Eixample and the Ramblas.  On this five-night tour you will mingle with locals in a traditional tapas bar and walk along the harbour to the city's popular beaches. There's a private guided walk of the Barri Gòtic, a two-hour private guided walk to see the architecture of Gaudí with an English speaking local architect and a side trip to the rocky peaks of Montserrat to visit the famous Benedictine Monastery.
Ramblers Walking Holidays (01707 331 133; www.ramblersholidays.co.uk) 5 night Barcelona on Foot starts from £985/person including flights, ensuite accommodation, half board with dinners in local restaurants, entrance to Sagrada Familla and all transport costs. Departs 11 October, 8 November 2018. 
A Roman Holiday (Moderate, Grade 4)
Showcasing Rome like its film namesake, 'A Roman Holiday' takes a contemplative walk through 'The Eternal City'. Immersed in history and world class art at every step, explore its ancient streets and impressive baroque squares. Walk in the footsteps of the Colosseum's great gladiators, climb the steps of the Capitoline Hill and admire expansive city views from the impressive Monumento Nazionale a Vittorio Emanuele II. See the Vatican City where the Sistine Chapel and Michelangelo's Pietà in St Peter's Basilica await and take time to join the locals' morning shop in Campo dei Fiori market or pause for an 'Hepburn moment' savouring a gelato on the Spanish Steps. The trip also includes walks away from the city in the water gardens of Villa d'Este and Ancient Rome's port of Ostia Antica.
Ramblers Walking Holidays (01707 331 133; www.ramblersholidays.co.uk) 7 night A Roman Holiday starts from £1065/person including flights, en suite accommodation, breakfasts, dinners on five evenings, local guide on one day and all transport costs. Departs 31 March, 19 May, 22 September, 3 November 2018.  
For more details on Ramblers Walking Holidays city breaks and worldwide walking holidays, click here.
– Ends –
To download images, click on the following cities: Hong Kong, New York, Barcelona and Rome.
For further media information and images contact:  Anthea Yabsley or Judith Watson on pr@rwhtravel.comor Salvatore (Tony) Maniscalco on salvatore.maniscalco@rwhtravel.com
Or call: 
Anthea Yabsley: 020 8578 6777
Judith Watson: 020 7372 7732
Tony Maniscalco: 01707 386755
Notes to Editors:
Company Background:
Ramblers Walking Holidays is the core brand for RWH Travel, the experts in guided walking adventures. Having celebrated its 70th Anniversary of holiday operating in 2017, other brands within the group include Adagio holidays – leisurely walking and cultural holidays at a gentle pace and Ramblers Cruise & Walk Holidays – in association with Fred. Olsen Cruise Lines. In total, the company operates over 250 holidays across over 60 countries.
Walking Grades:
Each of the Ramblers Walking Holidays has been graded to help clients choose their preferred pace, with categories ranging from Grade 1-3/Leisurely (usually two hours walking); to Grade 4-6/Moderate (a combination of full and half day walks); and Grade 7-9/Challenging (full day walks where stamina is key).
On some holidays, there is the chance to experience more than one walking grade with two leaders. Perfect for couples and friends who prefer to walk at a different pace or have different walking abilities.
Adagio holidays are largely ungraded.
Special Interest
To help clients choose the type of walking holiday that will appeal to their interest, Ramblers Walking Holidays also uses symbols that depict the main interest, style or theme of the walks. Categories include: Pioneer; Continuous Walks; Flora & Walking Holidays; Bird Watching & Walking; Lifestyle, Culture & Natural History; Hutting; Rail & Walk; Sightseeing.
Company Mission
The company's mission is to generate funds for walking charities by the provision of outstanding outdoor activity holidays worldwide.
With its not-for-profit philosophy, the company contributes monies to the Ramblers Walking Holidays Charitable Trust which supports walking related and environmental projects in the UK. The company also funds Heart & Sole – an initiative managed by company staff, with the aim of reaching into the heart of the communities visited both in the UK and overseas.
RWH Travel also runs The Walking Partnership – an initiative which champions walking at the 'grass roots' level by providing funding and support to walking groups and clubs throughout the UK.
Ramblers Walking Holidays is the Walking Holiday Partner of the Ramblers, Britain's walking charity which has been pioneering and championing walking and 'rights of way' for over 70 years across England, Scotland and Wales.
Customers travelling on all holidays operated by RWH Travel are fully protected via the company's membership of ABTA & ATOL. RWH Travel is also a member of AITO.
Follow and Share with Jetsettersblog.