Travel Updates for The Palm Beaches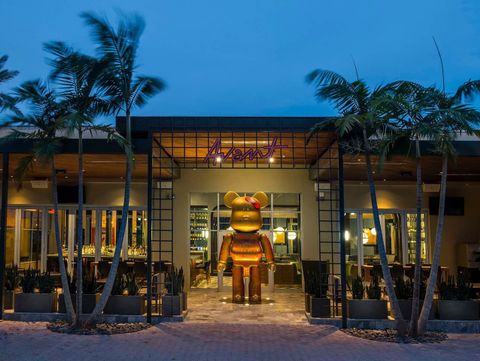 ---
New Year, New Updates for The Palm Beaches
See what's new in America's First Resort Destination®
Editor's Note: For downloadable high-res images and video, please visit: http://barberstock.com/thepalmbeaches
WEST PALM BEACH, Fla. (Oct. 11, 2017) — The Palm Beaches of South Florida continues to expand upon its variety of world-class experiences. With something for everyone, this slice of paradise invites visitors to come discover what's new, as it continues to prove that this destination is "The Best Way to Experience Florida®." Conveniently located between Miami and Orlando, America's First Resort Destination® is a collection of 39 diverse cities and towns that spans more than 2,300 square miles and stretches across 47 miles of pristine Atlantic Ocean beaches, from Boca Raton to Jupiter and Tequesta. Visitors can savor flavors of the farmland and freshly-caught seafood from the Atlantic coast; indulge in shopping at traditional malls or along historically charming avenues; unwind at any of the many sporting events ranging from golf and polo to baseball and croquet; and enjoy more than 200 cultural and family-friendly attractions.
NEW HOTEL OPENINGS & RENOVATIONS Earlier this month, the Aloft Delray Beach broke ground in the city's SofA (South of Atlantic Avenue) district. Developers expect the 121-room hotel to open in 2019.
In 2018, a new Residence Inn Palm Beach Gardens will bring in 122 new rooms, a Fairfield Inn West Palm Beach is expected to bring in 125 rooms to the booming area, and there will be 97 new rooms from the Springhill Suites Downtown West Palm Beach.
West Palm Beach is set to become home to one of eight new Canopy by Hilton Hotels in late 2018.The brand's concept is touted as an energized and natural extension of its neighborhood, with local design, food and drink, and culture. The 150-room, 14-story hotel will be built two blocks from CityPlace.
The Boca Raton Mandarin Oriental is set to debut in Downtown Boca Raton in 2020. The 118-room property will include two adjacent towers that will form part of an upscale mixed-use development. The property will feature 65,000 square feet of luxury lifestyle retail, as well as a world-class private club, which will offer social, fitness, spa and championship golf amenities. It will also offer extensive banqueting and meeting space, including an expansive 4,500 square-foot ballroom and a variety of adaptable conference rooms. This will be Mandarin Oriental's second property in Florida.
This January, the 200-room, 13-story Hyatt Place hotel opened in the heart of downtown Boca Raton, connected to a brand-new Louie Bossi's Ristorante Bar Pizzeria. The property is only one mile from the blue waters of the Atlantic Ocean.
In April, The Chesterfield Palm Beach debuted a refurbished Presidential Suite. Its grandest room, previously referred to as The Penthouse, is discreetly situated on its own private floor and has been dressed in a palate of luscious cream and cheeky pink hues. The new design features a custom-designed handcrafted carpet, saucy chaise lounge, salmon-striped drapes, Indian-silk wall coverings, plush linens, and a custom-made king-size four-post bed custom made in Venice. The refurbishment was led by Beatrice Tollman, president and founder of The Red Carnation Hotel Collection, Toni Tollman, director of design and projects for Red Carnation, and executed by Brian Brennan and a team of expert designers.
This year, the destination also welcomed the additions of a new and a Holiday Inn Express in Lake Worth, which brought in 92 rooms.
The Embassy Suites Boca Raton, the city's only all-suite hotel, renovated the property's pre-function space for meeting rooms, as well as its bathrooms, earlier this year.
The Spa at PGA National Resort & Spa, already a "Top Rated" Conde Nast Traveler facility, has a fresh look as of early 2017. The expansive 40,000 square-foot European-style spa has evolved with a major facelift in 2017. Changes include the addition of new bamboo massage treatment, more luxury spa retail items, enhanced gourmet spa cuisine options at the poolside Café, and a beautiful new avant-garde design of the entire ladies' lounge. In addition to the Spa refresh, The Palmer Course layout has gone through a comprehensive revitalization from tee to green that now makes Palmer's creation even more fun to play. Executed in consultation with The Palmer Design team, the recent changes maintain the core principals of the original design with a fresh architectural feel to meet the demands of the modern golf game. Nearly every aspect has been enhanced.
TRANSPORTATION Brightline, an express inter-city passenger rail service, is expected to begin before year's end. The highly-anticipated train will connect West Palm Beach to Fort Lauderdale in 30 minutes and to Miami in about 60 minutes. Phase Two of Brightline will connect West Palm Beach directly to the Orlando International Airport in just two hours.  Brightline will soon take delivery of its fifth trainset, BrightRed, from Siemens USA in Sacramento. Fabrication of the trainset was recently completed, and it is now on its way to South Florida traveling 3,052 miles via rail across eight states. The transcontinental journey is a milestone as it marks delivery of the final trainset for Brightline's Phase 1 service between Miami, Fort Lauderdale and West Palm Beach. Upon arrival at Workshop b, Brightline's 12-acre railroad operations facility in West Palm Beach, BrightRed will soon begin the testing and commissioning process.
Palm Beach International Airport recently announced several new and increased routes to complement their 200+ daily flights to 27 domestic and international destinations. The new flights for Fall and Winter 2017-2018 are as follows:
Chicago-ORD daily service via Spirit Airlines
Chicago-ORD daily year-round service via United Airlines
Boston-BOS daily year-round service via Delta Airlines
Islip/Long Island-ISP daily service via Frontier Airlines
Louis-STL Saturday service via Southwest Airlines during Cardinals Spring Training
The full list of the 2017-2018 flights can be found here.
RESTAURANT & BREWERY UPDATE
Recently opened last month in Downtown Delray Beach, AVANT is the latest restaurant from Society 8. Taking inspirations from the guerilla art movement of the early 1980s in New York City, AVANT will showcase original, one-of-a-kind artistic elements from South Florida artists. A globally-inspired menu featuring the freshest ingredients.
Nano-brewers Dominick Peri and Ken Gross will open Prosperity Brewers in Boca Raton this October. The one-barrel brew house will be located inside a 2,200-square-foot warehouse bay, 700 feet of which have been fashioned into a tasting room and lounge area. The duo will brew a number of styles and offer a diverse range of constantly-rotating recipes from dozen taps. The brewery's core profiles are currently slated with an IPA, double IPA, hefeweizen, wit, English mild and saison. With more than a dozen wine already in-house, the team also plans to launch an in-house aging program.
Opening later this Fall, Grandview Public Market (GPM), a multi-vendor food hall located within the recently developed hotspot known as the Warehouse "District" in West Palm Beach, will open its doors to the public. The repurposed mid-century warehouse, measuring 12,000 square feet, will provide a uniquely curated dining and shopping experience from a wide range of local and national purveyors. The 12 independent food purveyors are a mix of established local brands with loyal followings, and two concepts from nationally recognized New York-based hospitality company, Three Kings Restaurant Group, comprised of Bravo "Top Chef" alum Dale Talde, and his partners David Massoni and John Bush. It will be the first of its kind in South Florida.
A new food and drink-centric district is coming to West Palm Beach later this year. The Warehouse District, an eclectic urban neighborhood comprised of eight vintage-style buildings, is experiencing a transformation spearheaded by local food and beverage vendors, artists, fitness enthusiasts and entrepreneurs. The 85,000-square-foot district is located southwest of the Palm Beach County Convention Center near Downtown West Palm Beach.
Downtown West Palm Beach will soon have its first craft brewery, tap room and wine vault, West Palm Brewery & Wine Vault . Set to open in November of this year, the brewery will be located only one block away from the West Palm Beach Brightline station. The brewery's owner will sell his own private label bottles of California small-batch wines exclusively at the wine vault.
Swank Table Events will return this November with a new Weekend Dinner and Sunday Brunch from Nov. 26, 2017 through May 13, 2018. This unique series of al fresco Sunday Brunches, as well as Saturday and Sunday night dinners, take place on Swank Specialty Produce's farm. Each dinner is specially curated with local and nationally known chefs who create several-course meals (five-course for Saturday dinners and seven-course for Sunday dinners) for the attendees, at one set cost. Each dinner will also benefit a local charity. Brunch is a more casual, family-friendly, and affordable experience. Attendees to all events can also enjoy live entertainment from local bands and craft beverages from local brewers.
In November, award-winning restaurateurs Burt Rapoport and Dennis Max will come together once again to resurrect Prezzo. Alongside them will be James Beard Award-winning chef, Mark Militello, who will lead the kitchen as executive chef. A fixture in the 90s in Boca Raton, Aventura and South Miami, Prezzo brings back fond memories for area residents who remember the restaurant and its approachable Italian cuisine. Prezzo will be owned and operated by Rapoport's Restaurant Group, and will be located in Boca Raton's Park Plaza.
In January 2018, highly-anticipated restaurant and private club 1000 NORTH will open. The development is the collaboration of some of the biggest names in sports, top wine experts, and the region's leading developers. Investors include Michael Jordan, Ernie Els, and Rickie Fowler, just to name a few. 1000 NORTH will offer modern, American regional cuisine with impeccable service. The first floor of the 340-seat restaurant will have an indoor and outdoor bar, and will be open to the public, while the 1,500 square-foot second floor will be dedicated to members and their guests only. The second floor will have a 450-square-foot outdoor patio for food and beverages. Membership for the upper level club will cost $2500 a year, and there will be a limit of approximately 250 members.
Due South Brewing Company is expanding its taproom, which will nearly double in size for a total of 27,000 square feet. The added space will allow for 4,800 square feet of air-conditioned tap room space, and be able to provide more than 40 taps of on-site brewed craft beer. The completion of the expansion is scheduled for January 2018.
The creators behind Tequesta Brewing Company and Twisted Trunk are expanding once again – this time with Steam Horse Brewing. Plans are set to open the 6,000-square-foot brewery and tasting room in West Palm Beach' new Warehouse District next summer.
Damn Good Beer Bus opened in April 2017. This unique mode of transportation brings you and your friends to public and private brewery tours at several of the destination's most popular local breweries, including Barrel of Monks, Saltwater Brewery, NOBO Brewing Company, and many more.
NOBO Brewing Company, which opened in March, is the third brewery on tap in Boynton Beach's NOBO (North Boynton Beach) District. Led by two brothers, the five-barrel brewery has a neighborhood approach, serving "small batch local handcrafted beer."
Offering guests healthy meals ordered via touch-screen kiosk, the first of many fast-casual health-focused localgreens has recently opened to the public in Delray Beach. A concept developed by Restaurateur Dave Magrogan, Chef Josh short and Chef Adam Gottlieb of the Dave Magrogan Restaurant Group, localgreens features a tech-forward ordering system that combines the convenience of fast food with the nutritional benefits of fresh local ingredients, bringing health-minded consumers a new affordable fast-casual lunch and dinner destination.
Northwood Village, a hidden jewel in West Palm Beach that offers residents and visitors a unique hub for art and culture, is now home to a plethora of new businesses, including the following: casual seafood restaurant Hutton, bakery and coffee house RETRO XVI, Leo's Crab Shack, luxury boutique salon The Parlour Nolita, home décor boutique store Cate & Co. Home Boutique, inspired home store Row House, and the soon-to-open Petanque Kitchen & Bar.
NEW ATTRACTIONS/THINGS TO DO
An Astronaut exhibition will arrive at the South Florida Science Center and Aquarium, boasting 26 hands-on, interactive exhibits which relay the physical and psychological effects of living in microgravity and the technology required to complete space missions. The immersive experience surrounds guests with life-sized living quarters necessary to survive outside of Earth's atmosphere. Anyone who has ever wondered what it is like to sleep, eat, shower and use the toilet in space will get their questions answered at this blockbuster exhibit. Visitors will also experience the importance of science in space and the future of space exploration. The exhibit will be on display October 14, 2017 until April 15, 2018.
The Palm Beach Zoo & Conservation Society is expected to open Lorikeet Loft this fall. During this up close and personal animal experience, guests can go inside the habitat of these friendly birds, and feed them fruit and nectar.
Twelve new shops will move into the Royal Poinciana Plaza on Palm Beach this fall. A local organic market and juice bar, Celis Produce, will be one of those. Virginia Philip wine, Spirits & Academy will also join the plaza. Virginia Philip was the 11th woman in the world to earn master sommelier status in 2002, and she is currently the wine director at The Breakers. Saint Laurent, Magasin, Cynthia Rowley, and Vespa are also among the new additions.
Elizabeth Avenue Station, which opened in January, is a sprawling collection of local vendors and designers breathing new life into West Palm Beach's historical industrial buildings. Visitors can find artisanal goods ranging from pottery and stationary, to jewelry, bathing suits and fresh food at this pop-up type space.
The Ballpark of The Palm Beaches opened this past March for Spring Training 2017, welcoming the Washington Nationals and the Houston Astros, along with their many fans. The state-of-the-art, two-team facility offers a fan-friendly layout, with a 6,500-seat stadium as its centerpiece.
This April, Lighthouse Cove Adventure Golf unveiled the grand re-opening of the "Burger Shack" restaurant and Events Pavilion, featuring an expanded food menu, wine menu and the addition of 12 locally-crafted beers on tap, as well as 25 in the bottle. The restaurant also boasts a 3,500-gallon fish tank, along with 15 flat-screen televisions. A playground was also added, and both courses were renovated. A new play-through aquarium is one of the newest additions.
Mounts Botanical Garden's new permanent garden exhibit, Windows on the Floating World – Blume Tropical Wetland Gardens, opened this May as Mount's largest garden in its 40-year history. The new series of see-through walkways and moveable aquatic plants allow visitors to connect to the tropical wetlands around them. Windows on the Floating World features transparent, open-gridded, three-foot wide walkways on the surface of the wetlands to give visitors the feeling of walking on water. A Bromeliads wall, along with an area for wading birds and a waterfall, are key features of the new garden. This December, giant sea sculptures made entirely of ocean debris will be on display throughout the fourteen acres of the botanical garden during the Washed Ashore: Art to Save the Seaexhibit. The goal of the project is to educate visitors about plastic pollution in oceans and waterways, and spark positive changes in consumer habits. The exhibit will be on display through May 31, 2018.
A New Market Tour & Cooking Class is being offered twice a month by West Palm Beach Food Tours. Guests can join cookbook author and restaurant critic, Judith Olney, for their market tour and cooking class. The epicurean experience includes an insider's tour of a local market and a hands-on cooking class with lunch and wine for $95. Market locations vary and include the award-winning West Palm Beach Greenmarket, an Oriental Market, an Italian Market and a Mediterranean Market.
The Norton Museum of Art, a cultural icon in the destination since its founding in 1941, is set to debut its new transformation in 2018. The expansion and renovation, which began in February 2016, will further serve visitors by enhancing its 6.3-acre campus with an additional 12,000 square feet of gallery space for exhibitions, an education center with two new classrooms and student gallery, a 210-seat, state-of-the-art auditorium, an adjoining 9,000 square foot sculpture garden, a 4,000 square foot soaring Great Hall, a versatile dining pavilion with garden terrace, and six restored historic houses to accommodate an artists-in-residence program and the Director's home. This September through next January, Earth Works – Mapping the Anthropocene* comes to the Museum with more than 30 of artist and photographer Justin Guariglia's works. During the past two years, Guariglia was embedded in missions undertaken by NASA scientists working over Greenland to study how melting glaciers are affecting sea level rise. His works from the missions will be on display through January 7, 2018.
The award-winning Maltz Jupiter Theatre has announced its plans for an approximately $25-$30 million expansion to begin following its 2017-2018 season. Construction for the regional not-for-profit Theatre is expected to be fully completed by November 2019. Under the current plan, the Theatre's improved stage will be ten feet deeper and six feet wider on either side, enabling the Theatre to qualify for Pre-Broadway and National Tours. A third-floor rehearsal studio will provide actors with a view, and residents will have the opportunity to see actors working and rehearsing. A proposed second space will provide the opportunity for audience diversity. The Theatre's Goldner Conservatory of Performing Arts will double in size, allowing students the opportunity to receive a high-quality, dynamic arts education in state-of-the-art facilities.
Simon, a global leader in premier shopping, dining and entertainment destinations, announced it recently started a multi-million-dollar renovation at Town Center at Boca Raton. The upscale shopping center, which attracts international visitors and local shoppers with its world-class high-fashion brands and dynamic dining and entertainment options, will undergo a major interior and exterior makeover. The renovation will further transform the center into an iconic shopping destination, creating an unforgettable luxury shopping experience. The improvements will create a brighter, more inviting and relaxing atmosphere inside the center. Overall, Town Center at Boca Raton will be reimagined to feature a modernized design layered with neutral tones using nature-inspired materials. The redevelopment is slated for completion in the fourth quarter of 2018. Town Center at Boca Raton will remain open during regular business hours throughout the process.
Florida's only drive-through safari park Lion Country Safari welcomed a 150-pound baby giraffe in August. The female baby and mom, Pammella, are segregated from the herd in the maternity pen, but are visible to the public as they drive through the final section of the preserve. Lion Country Safari hosted a naming contest via social media, and the baby giraffe's name is Zuri, which means "beautiful" in Swahili.
NEW SPA & WELLNESS EXPERIENCES Celebrated for its award-winning spas and wellness offerings, The Palm Beaches is once again hosting its Spa & Wellness Month this month. The month-long promotion provided exclusive savings at more than 20 of the destination's most prominent spa and wellness facilities. This year's participating partners include the following: Beaute Therapies Medical Spa at 360 Beauty, Health, Wellness; The Breakers Palm Beach; Cosmo and Co.; Eau Spa; Elements Massage Boca Raton; Elite Skin & Beauty; The Spa at Four Seasons Resort Palm Beach; Kaffee's Garden Spa; nSpa at the Delray Beach Marriott; PGA National Resort & Spa; Seven Elements Spa; SiSpa at the Palm Beach Marriott Singer Island; Blueline Surf & Paddle Company; Mounts Botanical Garden; Om Yoga & Wellness Studios; South Florida Paddle; Visit Palm Beach; Bolay Restaurant; and Serenity Garden Tea House & Café.
NEW FOR GROUPS, MEETINGS, AND CONVENTIONS
This year, the Palm Beach County Convention Center added new LED lighting through the Exhibit Hall, a flat lot for exhibit move-in and oversized truck parking, as well as an eight-story connected parking garage for ample attendee parking. The Convention Center has also added a direct hotel connection with the Hilton West Palm Beach, just 25 steps away from door-to-door, making it the only Convention Center in South Florida to be physically connected to a hotel via an enclosed walkway.
The Palm Beaches' wide array of support services and the experienced professional staff members can help to ensure an efficient, memorable and exceptionable convention and meetings experience from the first moment you contact the organization. The following new destination services for groups and meetings are offered exclusively when sourcing events with Discover The Palm Beaches (DTPB), and can be provided complimentary or at reduced rates:
Marketing Materials to promote your conference and attendance as well as access to our high-resolution photo library and e-tools. Promotional options for qualifying groups including welcome banners, branding opportunities, airport signage and use of airport private lounge, where applicable, and our product display cart sourced with locally produced items.
Assistance with transportation needs including providing unique options for transporting attendees such as FreeRide, gas-free electric shuttles, which transport passengers from the Palm Beach County Convention Center to popular spots, such as Palm Beach and area attractions. This service is sponsored by DTPB.  We also offer Molly's Trolley's to qualifying groups to transport attendees throughout the Convention Center District.
DTPB offers "Dine Around" options at CityPlace, an outdoor shopping plaza, and in Downtown West Palm Beach on Clematis Street, a popular dining destination.
Assistance with housing options for citywide group events requiring multiple hotel stays, as well as destination marketing materials to incorporate into event websites, including the creation of social media presence for events.
Other services offered by DTPB include a photo kiosk booth, customized Corporate Social Responsibility projects, preferred provider recommendations for unique off-site venues and sporting activities.
###
About Discover The Palm Beaches
Discover The Palm Beaches, formerly the Palm Beach County Convention and Visitors Bureau, is the official tourism marketing corporation that promotes the collection of 39 cities and towns and 15 tourism districts spanning more than 2,200 square miles and 47 miles of pristine beaches from Boca Raton to Jupiter and Tequesta, commonly referred to as "The Palm Beaches." Tourism is among Palm Beach County's major industries, generating $4.6 billion in direct visitor spending and supporting more than 66,000 jobs with an economic impact of approximately $7 billion. Once recognized as a tropical escape for elite travelers in the late 1800s, America's First Resort Destination® is making its resurgence as The Best Way To Experience Florida®, welcoming a record-breaking 7.35 million people in 2016. The Palm Beaches are home to nearly 17,000 hotel rooms, ranging from historic resorts to boutique inns. The destination features more than 100 family-friendly attractions, world-class luxury and antique shopping experiences, 125 miles of peaceful waterways for on- or in-the-water activities, more than 150 artificial reefs that line the Atlantic Ocean's Gulf Stream current, 160 golf courses, award-winning restaurants, and a thriving entertainment scene boasting more than 200 art and culture organizations. For more information about The Palm Beaches, visit www.ThePalmBeaches.com and connect on social media via Facebook, Twitter and Instagram@PalmBeachesFL, YouTube at Discover The Palm Beaches and the hashtag, #ThePalmBeaches.
Follow and Share with Jetsettersblog.