Trip101 Highlights Off-the-Beaten-Track and Alternative Accommodation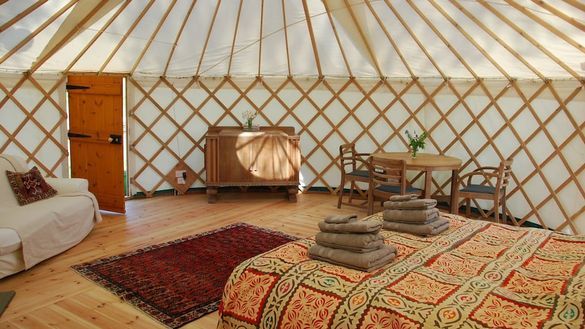 Tags: Trip101, Travel, DigitalTravelGuid
Trip101. Based in Singapore and established in 2015, Trip101 is a global network of travel experts and enthusiasts. With a team of professional editors and engineers, Trip101 publishes inspiring and authentic travel guides for over 150 countries, packed not only with the basics for any aspiring traveller but with off-the-beaten-track suggestions and stories packed with local insight.
From cities to beaches, mountain trails to design inspirations, Trip101 focusses on local experiences. Publishing over 100 articles a week, the Trip101 team tell stories, curate ideas and help travellers to find extraordinary and unusual places to stay along-side standard accommodation alternatives. So, if you are searching for where to weekend, or the best design properties on A‌i‌r‌b‌n‌b‌, if you're looking to stay on a houseboat, a holiday home, up a tree or in a campsite, a yurt or luxury villa, Trip101 provides top listings chosen from Booking.com, Airbnb, HomeAway, and VRBO.
Currently over 47,000 articles by 220 travel writers highlight popular hot spots in London, Paris, New York, Tokyo, Bangkok and Singapore as well as lesser-travelled destinations like Mongolia, Romania, San Luis Obispo (Mexico) and Tibet. Reviewed by travel experts, Trip101 also shares local and authentic experiences from the best ways to explore the nightlife, to hidden local hot spots, favourite foodie and stops and up-to-the-minute hidden gems that rarely make it into mainstream guides.
Alongside dedicated destination guides, Trip101 also provides regularly refreshed round-ups of the best alternative accommodation options and experiences for solo travellers, business travellers, leisure and family travellers. Currently these include:
·         Top 10 Island Resorts in the Maldives
·         Solo travel in Bali, Indonesia
·         8 astonishing overwater bungalows in Mo'orea, French Polynesia
·         Top 10 themed restaurants in Tokyo, Japan
·         Top 30 things to do in Orlando besides theme parks
·         30 romantic things to do in Toronto you never knew existed
·         10 best foods to try in Johor Bahru
·         33 fantastic things to do in Houston Texas
·         11 awesome things to do in Hat Yai South Thailand at night
·         Top 10 things to do in Barcelona at night
Trip101's article content roadmap is driven by what people are looking for their next travel inspirations, making content relevant to today's travel consumer. Providing a global platform for user-generated content and travel expert advice, Trip101 has achieved 160% growth in the past six months. With over 1 million unique monthly visitors, Trip101 is empowering content curators to share their authentic experiences with honest reviews.
Trip101's Co-Founder & CEO Kei Shibata is a travel technology trendsetter. Since 2001, he has Co-Founded parent company Venture Republic Inc which hosts three domains. This includes Japan's largest travel metasearch/online travel guide media, LINE TRAVEL jp – with over 20 million monthly visitors, Korea's accommodation metasearch, Allstay and Singapore's online travel guide media platform, Trip101. An active angel investor in TravelTech space and head organiser for WIT Japan & North Asia, Kei also serves as a board member and advisor for multiple travel start-up companies including Travel Massive and BeMyGuest.
"We are excited to introduce the Trip101 online media platform to the UK market," said Kei Shibata, Co-Founder & CEO at Trip101. "Our methodology of empowering travel experts and travel enthusiasts to share their authentic experiences on the platform provides a modern way to discover, book and enjoy travel or a destination. We aim to revolutionise the way travel content is published online through technology, developing the ability to network online based on travel experiences and personal destination guides."
To discover more Trip101 recommendations and cultural hidden gems visit: trip101.com.
Trip101 is a one-stop guide for travel enthusiasts around the world. Supported by an ever-growing community of travel writers, Trip101 provides inspiration and useful information to help facilitate travel in a fun and meaningful manner. Spanning across 7 continents and more than 150 countries, all travel recommendations are based on the experience of travel experts. Trip101 provides the latest destination guides, accommodation reviews and travel tips – relevant for all stages of travel. Be it pre-trip, in-destination or post-trip, there's something useful for everyone.
Follow and Share with Jetsettersblog.