Welwood Hotel, Palm Springs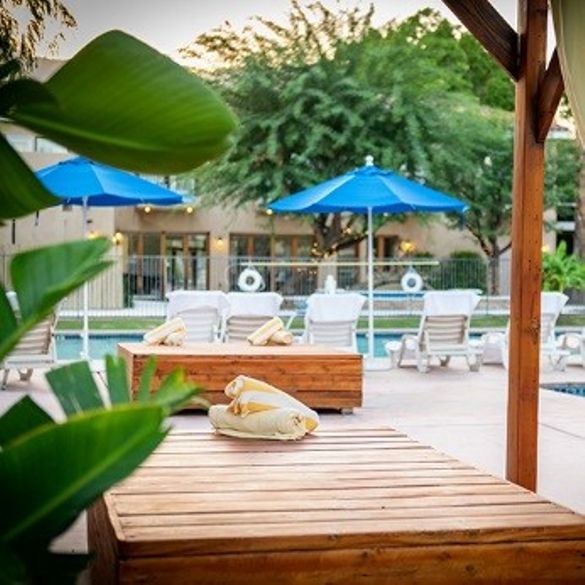 ---
Palm Springs, California will see further improvements in its accommodation portfolio with news that its Ivy Palm Resort will be transformed into the Welwood Hotel next year, a property that will tap into the city's rich history and pay homage to Palm Spring's first hotelier, Dr Welwood Murray. Renovations on the property, which is expected to reopen in 2020, have now begun, starting Oxygen Hospitality's transformation of the hotel.
Inspired by the mid-twentieth century modernist architecture that Palm Springs is renowned for, the hotel's redesign is described as angular and artistic, featuring colourful motifs for the outside pool. Renovations of the 100-room, three-acre property will include new guest rooms and suites, featuring clean palettes of neutral and aqua shades, complemented with sleek, rich, modern furnishings. The lobby will be relocated, while the entrance will be redesigned to feature an exterior circular entry. Completing the properties enhanced offering will be a new restaurant / bar concept and two remodelled pools with cabanas.
The hotel has been inspired by the great legacy of Dr Welwood Murray, who not only built the city's first hotel in 1886 but was also a key founding philanthropist and a local favourite within Palm Springs.
Reservations anticipated to open in November 2019.
For more information on Welwood Hotel, please visit welwoodhotel.com
For more information on the city of Palm Springs, please visit www.visitpalmsprings.com
About Palm Springs
One hundred miles east of Los Angeles, Palm Springs is a desert playground with year-round sunshine, blue skies and stunning natural beauty. Nestled beneath California's San Jacinto Mountains, the city is famed for its Hollywood legacy, Native American heritage and huge collection of mid-century modern architecture. The desert oasis boasts a wealth of adventurous hiking trails and historical canyon tours, as well as chic boutiques, world-renowned golf courses and unique experiences, including the chance to stay in the former homes of Marilyn Monroe and Elvis Presley. For more information see www.visitpalmsprings.com.
Follow and Share with Jetsettersblog.