Winter Treatments at Lefay Resort + Spa Lago Di Garda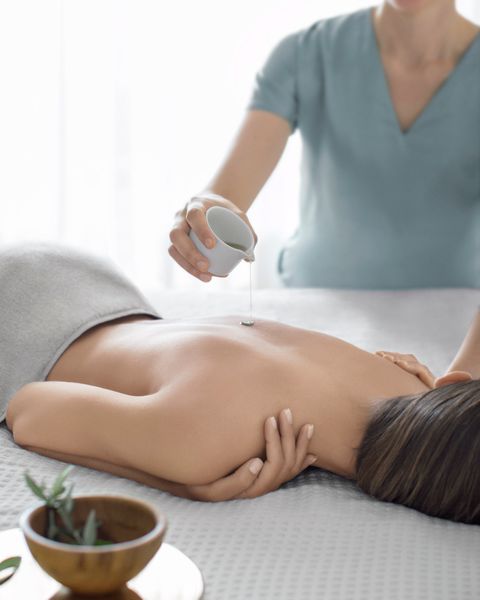 ---
Award-winning eco-spa Lefay Resort & SPA, overlooking Lake Garda, has launched a range of warming winter treatments combining traditional holistic therapies with modern Western techniques.
According to Chinese medicine, we can boost our health by rebalancing our energy fields as they shift with the rhythms of nature. As we move from summer to winter, 'cold' yin dominates as 'hot' yang moves inward during a time of rest and renewal. Lefay Resort & SPA's healing new treatments help Guests to counteract the winter chill by nurturing their warming inner yang.
The new Massaggio di Giada harnesses the purifying properties of the healing jade stone and calming rose essential oil to promote equilibrium between yin and yang. This intensive massage blends delicate hand movements with gua sha, a detoxifying acupuncture technique that involves rubbing the skin and muscles to bring toxins to the surface where they can be released. The effects of the massage then penetrate deep into the body during the days following treatment. The 75-minute Massaggio di Giada costs £128 (145 Euros).
Lefay Resort & SPA has also introduced a range of aromatic mud wraps using the new Lefay SPA cosmetic muds to boost the flow of life-energy, or qi, through the body along pathways called meridians – a perfect pick-me-up during the sluggish winter months. Cosseting Guests in a warming blend of sulphate clay and morillonite, each wrap combines the osmotic power of mud with a blissful massage to stimulate energy points along meridians, helping to clear toxins and regenerate tissue. Guests can choose from three 60-minute treatments – the Toning Wrap, Contouring Wrap or Draining Wrap – costing £97 (110 Euros) each.
Winter's shorter days, longer nights and diminished light can confuse our body clock, making us more susceptible to insomnia. Along with the new treatments detailed above, Lefay Resort & SPA's Embrace of Morpheus Massage is a longstanding favourite that complements the retreat's tranquil location and relaxing suites to promote a peaceful night's sleep. In line with the principles of Chinese medicine, this enveloping massage rebalances the energy concentrated in the head, dispelling the negative effects of factors such as anxiety, stress and age. The 70-minute Embrace of Morpheus Massage costs £124 (140 Euros).
The Lefay SPA is an exclusive temple to wellness, where Guests can reharmonise the mind and body as the strains of everyday life melt away. Recently named as one of the 30 Best Resorts in Europe in Conde Nast Traveler's Reader's Choice Awards, Lefay offers an extensive menu of holistic treatments, several pools including an infinity pool, six different types of sauna and five relaxation areas for a truly immersive healing experience.
For more information, contact Tiggy Dean or Emma Hill at Hill and Dean PR on 0208 875 9923.
Notes to editors:
Leading the way in sustainable tourism in the luxury arena in Italy, the family-owned award winning resort has developed its own SPA Method to offer innovative wellness programmes combining traditional Chinese medicine with modern Western techniques. Lefay Resort & SPA Lago di Garda is set in 27 acres of woodland and olive trees in the Alto Garda National Park overlooking Lake Garda.  The Resort has 21 treatment rooms, five different types of sauna, a salt water lake for flotation therapies and indoor and outdoor swimming pools with spectacular views.  
Follow and Share with Jetsettersblog.